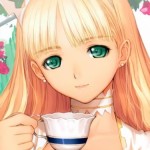 Public Group
active 2 weeks, 2 days ago
Shining maidens take tea together and talk about everything the sun and moon shine upon.
For tips and tricks on how to make the best use of the Forums see Forum Tips.
Chivalry and being brunette in a schizomorphic world
This topic contains 31 replies, has 8 voices, and was last updated by

Petite Sorcière 2 years, 10 months ago.
Author

Posts

January 22, 2015 at 9:02 pm

#218013

Rayati,

Today I took a trip to the dentist (don't worry, nothing painful!) and I found my brunette self coming out so much without meaning to. While trying to get on the Tube, I made a mistake (scatterbrained brunette!) and needed to talk to the pette in charge. She happened to be engaged in talking to a young lady who was obviously foreign, probably blonde, and having difficulties with the local transport system. The conversation went on for absolutely ages and I was going to be late for the dentist.

Now, 'Pit Maxie' would have started getting very impatient at this point, squirming, making increasingly obvious attempts to catch the eye of the pette in charge, and eventually outright interrupted. Brunette Maxie stood smartly to attention and gave this lost young blonde all the time she needed to sort herself out – and just as importantly, gave the hardworking magdalin all the time she needed to do her job without being interrupted. She was very apologetic when she found out my problem could have been solved in a moment, but I just smiled and told her it was fine. (After all, it was my mistake, and my responsibility as a brunette to leave home in plenty of time!)

I also felt much more inclined to be considerate of fellow travellers on the Tube, and had better posture as well. The real surprise, though, came at the dentist, when I was faced with two young masculi being very chivalrous. I have always been very upset by masculi treating me like a femin – I try to be polite about it (because putting masculi off being chivalrous makes the world a colder, harder place for blondes, and that matters more than making it more comfortable for myself) but I have often found it so overwhelmingly horrible that I could barely stammer out a 'thank you'.

To my great surprise, this time I found myself accepting the chivalry graciously with lots of smiles, and even letting one of them put my coat on for me, without getting upset! (It must have been quite obvious that I hadn't let anybody put a coat on me since I was about five, because I had no idea how to get my arm in the sleeve, but never mind.) I even felt a tiny bit appreciative. I was not expecting this effect at all, and I am not sure I can explain the thought process behind it, which was largely unconscious. Sort of, 'Your chivalry cannot feminise me, because I am not a femin. I am a brunette, and so of course I will respond with grace and appreciation in the name of harmony and Menamity, and because chivalry is better than rudeness, even if it is chivalry which is totally at right angles to my gender.'

I would be very interested to hear how other pettes relate to mascul chivalry, and also how other brunettes handle the question of chivalry towards femini, who may or may not appreciate it!

In Amity and having a lot of fun with this,

Maxie

January 22, 2015 at 9:59 pm

#218060

Being blonde I have never been bothered by chivalry, and found it a little difficult to see why brunettes would be until just recently when it was brought home to me.

It was an episode of Smile Precure, which in addition to its astonishing metaphysical virtues, is one of the most extraordinary depictions of intemorphic sexes I have ever seen in Telluria, and it isn't even meant to be. There is really something extraordinary about some anime.

Anyway, in one episode Akane (Cure Sunny), a brunette of the brunettiest is treated in the most chivalrous manner by a young mascul. I really couldn't watch it. I was just thinking "How can you treat her like a femin? She is a brunette."

Of course the writers didn't even know the concept but somehow they had drawn three blondes and two brunettes (all of different types, but each one typical of a certain kind of blonde or a certain kind of brunette) absolutely to the life.

Anyway, the aberration only lasted one episode (and only five minutes for me).

But it taught me how strange the chivalry problem must feel to brunettes.

And having said that, you are absolutely right. Of course we should maintain the harmony. Chivalrous masculi are maintaining the harmony of their own people, and  few enough West Telluri do that. It behoves us not to disrupt what little harmony we do find among them.

January 22, 2015 at 10:21 pm

#218105

PS ‐ I can't find the armholes either. But I am a notoriously 不器用な金性 bukiyou na kinsei = awkward/clumsy chelana.

January 23, 2015 at 1:06 am

#218190

Thank you for teaching me a new phrase, Sushuri-chara! I feel sure that you and all bukiyou na kinsei were gifted with your bukiyou-ness by Dea to bring out the adoring protectiveness in us brunettes… although I am not sure what divine meaning there can be behind my own many bukiyou moments!

Hmm… On reflection, I think it can go both ways, as a brunette who is all full of jinky energy and prone to sort of flinging herself about can be very lovable to a graceful, elegant and gentle blonde, and make her smile a lot. That certainly seems to be the way it goes with my own dear blonde angel! Perhaps it brings out the Sushuric nurturing energy in her.

There, I have worked it out to my own satisfaction. All of us clumsy pettes are divinely gifted by Dea to strengthen the bonds of Amity!

January 23, 2015 at 1:04 am

#218189

Thank you for your understanding! It feels good to receive understanding from a blonde. And thank you for confirming my intuition on what I should do. I am finding that a lot of my 'how is a brunette supposed to act?' questions naturally answer themselves if I just let myself be a brunette. I love my brunette self!

I have seen a bit of Smile Precure and adored it – I particularly appreciated that they put two brunettes in the group, because normally there is precisely one brunette whose salient personality trait is that she is a brunette, just like the one femin in shows for masculi. Perhaps I should watch a bit more … (ducks in anticipation of all Chelouranya descending on me with cries of, 'Yes, yes, watch more!')

January 23, 2015 at 1:11 am

#218234

And on that note, I still can't get my replies in the right places…

January 24, 2015 at 9:24 am

#219563

Rose

Participant

Rayati,

Miss Maxie Jessop, I need to develop your acquired sense of patience! Thank you for sharing your experience, as I hope to be able to use it as a good example the next time I venture into the Pit!

In my relations with Tellurians, I have never been bothered by chivalry from masculi, but at the same time I feel a great need to be chivalrous to femini (though there is an awful stigma against chivalry in West Tellurian society due to the masculinist revolution in the 1960s and 70s). I imagine the same would hold true for chivalry in Sai Herthe or amongst other Herthelani-in-Telluria, especially toward chelani, though I have never had on-the-ground interaction with other Herthelani (that I am aware of).

Is this a melini tendency? As I have seen both chelani and melini qualities in myself, I am still quite torn, though I am leaning more toward being a melini.

In amity,

Rose

January 24, 2015 at 10:10 am

#219566

Miss Rose, I am thrilled to receive your reply! I have been keenly hoping for a brunette (or maybe-brunette!) perspective on this. As I understand it, the desire to be chivalrous to femini is very much a brunette thing, and I feel it very strongly too – though it seems to be somewhat of a lottery, as some femini dislike chivalry in general, some dislike brunette chivalry in particular, and some absolutely melt…

I think in many cases (no thanks to the dubious behaviour of some masculi) they read it as making a pass at them, which of course is very uncomfortable for a heterosexual femin, and the last thing a chivalrous brunette wants is to make anyone uncomfortable! I suppose the best balance with an unknown femin is to default to a very low-key, unostentatious chivalry (open the door, but open it without any sweeping gestures or other flamboyant business and without looking as if you expect to be rewarded with a beautiful smile.) And then observe her reaction and dial the chivalry up or down as appropriate. Would you agree? I would be interested to know how you handle it. I admit that at the moment I often shy away from being chivalrous out of embarrassment and feeling unworthy, but I want to change that.

Oh, and thank you for the compliment on my patience; if I showed any, it was inspired by you and everyone else here, so I think we have a nice little beneficial circle of inspiration!

January 25, 2015 at 1:19 pm

#220729

Nyssa Feverwood

Participant

Rayati Miss Jessop

I agree that a low key approach is always best. I often get into door wars, i.e. when there is a small anti chamber and we hold both doors open waiting for the other to come through. Maybe that is a Canadian thing.
If no one is coming and we are at a standstill, I tend to break first as it saves face for him. I do thank him for being polite and do not try to get offended when no one responds politely. I remember that I will find my level, and the waves they cause are not worth it.
I think that if able, people should open more doors for each other not for a reward but just to be helpful. If you get there first you hold the door. At least in Telluria. I am sure I have more to learn about Herthelan behavior.

In Amity
Nyssa Feverwood

January 26, 2015 at 2:07 am

#221248

Rayati Miss Feverwood,

What a lovely lot of responses I have woken up to! Thank you for sharing this with me. I quite agree, and I can vouch for the fact that 'door wars' happen outside Canada too…

In Amity,

Maxie

January 25, 2015 at 7:25 pm

#220982

Myriam Hildotter

Participant

My brunette has noticed that she cannot begin to change a flat tire without a masculi coming to help…often doing it for her.  She generally just lets them, and only really gets annoyed when they do not know what they are doing (but she never shows her annoyance…at least to them).  She does know how to change a tire quite competently, but she says that it makes them feel good to rescue damsels in distress.  I, on the other hand, have absolutely no idea how to go about such a thing, and fortunately, I have never had to deal with such a situation driving by myself (and I hope I never do).  My job has always been to watch admiringly and hold lug-nuts or follow orders if something is asked of me (trying not to be too incompetent about it).

In my former Masculinist days, the rationale for objecting to chivalry was something silly…about not being too weak to open our own doors.  Honestly, I never really understood it…but, thank all goodness that is behind me.  Heee…I never learned to find the arms of a coat either though (I am a <span class="text">不器用な金性</span>).

I can see where it would be awkward for brunettes….but as Sushuri-chei said, one should not disturb the small amount of civilized behavior one can find here.

January 26, 2015 at 3:31 am

#221332

Oh dear! Miss Hildotter, I bow to your brunette's superior – well, chivalry, really. 'It makes them feel good to rescue damsels in distress' – what a generous spirit!

I think the 'not being too weak to open our own doors' thing is probably a reaction to masculi belittling femini's abilities and using 'chivalry' as an excuse to stop them doing all sorts of things. I say 'chivalry' in inverted commas because I think true chivalry is supportive, not obstructive. Chelouranyans might joke about blondes being inept, but I cannot imagine any brunette worth her salt would try to stop a blonde from being all she can be.

Thank you for sharing your honoured thoughts with me! I am glad you agree with my intuition about how to respond.

January 25, 2015 at 11:51 pm

#221164

This thing we call chivalry (rather than the more narrowly defined chivalric code) is generally this: the strong going to some trouble and difficulty for the sake of making things more safe and comfortable for the vulnerable, thereby increasing harmony.

Showmaidship and flourish are dashing and kakkoii, but they are not in themselves chivalry (though in situations where they are welcome they can of course be tacked on to a chivalric act). Sometimes they, as you have noticed, actually go against the precepts of chivalry by making some vulnerable someone uncomfortable!

To think in a chivalric way leads to some rather interesting situations. For example, I admit my clumsy, silly mistakes rather more than I'd naturally like to in order to set people who are self-conscious at their self-perceived clumsiness at their ease. When I'm in class and there are people who are introducing themselves with their desired pronouns because their appearance doesn't make a perfect fit with who they are yet (actually quite common in my university), I introduce myself with my pronouns even though it is extremely obvious that she/her/hers are appropriate for me. It is a risk for them to stand out in that way, and I use my position of strength to help them stand out less.

Which brings us around to brunettes and masculi. Now, lean in close because I'm going to whisper a secret to you.

Closer.

Closer.

All right. Here's the thing. Masculi are *fragile*.

There, I done said it. My experience is that masculi are much, much more easily hurt by any perceived slight on their abilities than brunettes. So – accepting the little gestures they offer me as an apparent femin helps preserve their feelings, and therefore, I do, even if it sometimes feels a little awkward. It's all for the greater harmony after all.

To add a layer of complication, various cultures have classes of people who are *ritually* rather than literally vulnerable. It's true – most femini can handle a door or a tire just fine if they must. There's nothing in standing for a blonde when she enters the room that the blonde *logically* requires. However, these ritual roles are important in ways that my dim brunette mind can only grope around the corners of. Maybe someone clever can pop in and rescue me in regards to this?

January 26, 2015 at 4:03 am

#221334

Thank you so much, Elefarya-chara! I was hoping you might be willing to share your wisdom with me. Your definition of chivalry is exactly what I have been looking for and I cannot thank you enough. The examples you give from your own life have really inspired me.

And as for that secret – and its gloriously dramatic presentation – yes! Now you put it like that, I agree, masculi are fragile, and it is not their fault because they are brought up to be terrified of any perceived loss of masculinity, and shamed for crying in pain when they are tiny little toddlers.

About ritual vulnerability, I think that is a very interesting point and it made me wonder a lot… I would love to hear what anyone else has to say on that!

This is sort of a tangent, but I wonder if kakkoii and kawaii are how strength and vulnerability naturally express themselves in a Sushuric/Thamelic society?

In an 'every maid for herself' society, strength is often expressed by paring one's appearance down to the brutal, functional essentials (for example, shaving one's head.) In a society built on Amity and Harmony, perhaps the expression of strength needs to say, 'I am strong, but I am also gentle' – to promise chivalry – and I think kakkoii does this by tempering power with beauty.

Kawaii might be the mirror image; if the expression of vulnerability in an 'every maid for herself' society is to wear rags, keep one's head down and avoid attention, perhaps the expression of vulnerability in an 'Amity and Harmony' society needs to say, 'I am vulnerable, but I trust in your gentleness – please take care of me!' Kawaii, as well as more dignified forms of pure and gentle beauty, seems to me to ask for chivalry and sweetly reward it all at once.

Thank you once again – I appreciate your guidance so much!

January 26, 2015 at 8:23 am

#221543

Yuriko Rill

Participant

I seem to have waftings of the explanation for the more ritual aspects of chivalry from North Arkadya, where these types of things were rather strictly adhered to.

Of course, as Elefarya-chei explained so well, there are the practical aspects of chivalry, the strong deferring to and helping the weak.  We are told that, in the Motherland, chelani are physically weaker than Tellurian femini, and melini are physically stronger than Tellurian masculi.  In addition to that, chivalry serves a genkan function of separating the inside from the outside, the Hestia from the Agora.  For those who do not know, the genkan is the place in Japan where one removes her outside shoes and dons household slippers.

In North Arkadya, brunettes do not touch the central hearth fire, and blondes generally do not handle money or financial affairs.  This is particularly the case in the Upper Estates, where blondes do not touch money at all, but even in Magdala family businesses, it is generally the brunette who takes care of the financial side of the business.  This is not about ability, per se.  Money is a part of the outside and the Agora, and the separation between the roles of the chelani and melini help to keep the inside, the hearth, pure and protected from the outside, business and financial matters.

When chelani do go into the marketplace, they are still representatives of the home and the hearth, which are microcosms of the Solar Heart.  That is why it is particularly important for a chelan to be dressed properly when leaving the home.  It is of course important for both sexes, but particularly so for chelani.  The ritual aspects of chivalry, such as opening doors, doffing hats, and standing, give honor to the home and hearth, and remind melini of what they working for and protecting.

I am not sure if this is right, but it is what I seem to remember.

January 26, 2015 at 11:37 am

#221675

Oh, what a beautiful concept. Thank you, Miss Rill, I love hearing about waftings! It does make sense, and seems to echo the way each individual maid works as a microcosm – the outside of a maid protects and honours the inside, and the inside of a maid gives meaning and purpose to the outside. Hee!

I am just enjoying the mental picture of the beautiful Arkadyan chelani sailing forth in their splendid dresses and carrying the light of the hearth with them…

January 26, 2015 at 9:21 am

#221586

Definitely chivalry is primarily ritual, I would say. It is not really about what anyone can or can't do.

In that it is like the genkan. West Telluri and Japanese people talking to West Telluri tend to talk about the genkan in terms of physical dirt getting into the house, but in truth that has very little to do with its real function. It is a ritual barrier between uchi and soto. The enclosure of the house, and the outside.

I think kawaii and kakkoii are definitely the expressions of the most immediate aspects of chelanity and melinity. There are others, of course, and brunettes can be kawaii and blondes kakkoii to great effect at certain times. And sometimes the two are combined (think of Poppu in Smile Precure).

But the entire "polarity" between kakkoii and kawaii is fundamental to our aesthetic as it is to the Japanese. How interesting that West Telluria has no way of expressing that "polarity" and only very limited words for the concepts.

January 26, 2015 at 2:36 pm

#221801

Oh, this genkan concept is very helpful in understanding all this, thank you.  I had noticed the presence of ritual barriers in Japanese culture in another concept – my main vikheli is aikido, which is practised on a mat and you Do. Not. step on that mat in your sandals. Nor do you walk to the mat in bare feet. You stand at the edge in your sandals, line them up neatly and step out of them onto the mat. Ostensibly this is to stop people tracking dirt onto it, but really, it is to stop people bringing the energy of the everyday world into the aikido world. This ritual barrier is so important that on one occasion, a great Master arrived to teach a class, looked at the row of sandals, saw that one person had stepped on the floor with his bare feet, said, 'No class today!' and stormed out…

I absolutely love kawaii-kakkoii polarity and feminine-ultrafeminine polarity (but I hate being on the feminine end of feminine-masculine polarity.) Personality-wise, my blonde friend and I definitely have a kakkoii blonde/kawaii brunette thing going sometimes, because I am a bubbly brunette who was the class clown at school and she is a graceful, dignified and elegant lady – but still every inch a blonde! Making her smile is part of how I take care of her.

January 26, 2015 at 4:09 pm

#221885

Kyoumibukai ne! That is really interesting. With a genkan you step out of your shoes up into the house proper. It is referred to as "rising" and one can be invited to come in with agatte kudasai "Please come up" (perhaps the only time one refers to something of one's own as ritually "up" rather than "down").

You should step out of your shoes, up and into your slippers (or guest slippers if you don't live there). If you are a little bukiyou it isn't too bad as there is actually no taboo about putting your unshod feet in the house. What would be bad would be to touch the genkan floor with your unshod foot and then step up, since you would carry the soto (out) genkan influence into the uchi (interior/house ‐ the word means both).

I hope you won't mind a small cultural/linguistic correction here. We don't use the term "energy" for subtle influences. Why? Well it smacks of New Age notions in which spiritual/lunary matters are thought of in terms of modern physics. Energy is a modality of matter, while what we are talking about here is non‐material influence.

It is awkward, as modern English has no very good terms for such things. I am wondering if in aikido (合気道 : Way of meeting of spirit? Way of confluence of spirit?) what is being transferred (or rather not transferred) is the 気 ki of the outside world. (Spirit isn't a good translation, but English is so bad at this sort of thing).

When you speak of yourself and your brunette at these moments, I think of Reika and Akane (Cure Beauty and Cure Sunny). By the way the do of 合気道 is the same as the 道 michi (way or path) that Reika is so concerned about and whose kanji she put on the wall of the Secret Base.

January 27, 2015 at 8:43 am

#222543

Thank you for explaining that, Sushuri-chara! It sounds as if the ritual of entering the house has a similar purpose to what we do in aikido, and I think you are exactly right – it is a way of keeping out the ki of the outside world.

And thank you for your correction about the word 'energy'. Please forgive me for using that word. I'm actually happy to have a different way of talking about it, because while I am very much the type to believe six New Age concepts before breakfast, I do not believe in them as physics and I find it a bit embarrassing having to use the language of physics to discuss them. It makes it very easy for non-believers to make accusations of 'pseudoscience', and all one can say in response is basically, 'Well, I am calling it a cat but that doesn't mean I literally think it has whiskers and goes meow'.

On that note, I'm afraid the translation my Sensei gives for 'aikido' <i>is</i> 'way of harmonising energy'! I think in this case 'power' or 'force' might be a closer synonym than 'spirit', although it is spiritual as well as physical. The idea behind the term is that you neutralise your partner's attack by blending with it rather than blocking it. Your movements flow with the direction of the strike, so you invite her to go further in the direction she was already going and she falls over! It is a very Thamelic vikheli – one might even call it a Sushuric vikheli, because the aim is to end the fight without hurting the person attacking you.

Thank you for that note on Reika. Is there some cultural thing behind her performance on Mount Fuji that I'm missing? I did notice that she called the mountain 'Fuji-san' – giving an honorific to a place, like 'Sai Herthe'.

And you are so spot on, I had already thought that my blonde and I were like Reika and Akane (though she is much, much, much more emotional than Reika!) By the way, is it proper to refer to 'my blonde' in this context or does that make it sound as if we were dating? Perhaps I should say my blonde Sarachenyacheri… I have been going round and round as to whether she is Sarachenya or Saracheri because she is older and much further on her spiritual path than I am, but our relationship is very equal in most ways, plus I am usually the one taking care of her. (Really a classic dynamic in that respect, with the blonde guiding the brunette spiritually and the brunette providing a steadying hand for the blonde when her emotions get too intense.)

Thank you again for being so informative!

January 27, 2015 at 9:47 am

#222586

Yes, I understand about 気 ki. It is a concept that is not easily rendered in English, which seems to have lost all words that carry any fine distinctions in non‐physical matters. Partly, of course since it has long "officially" dismissed them. Also, I think because the whole tenor of West Telluri thought and of the current English language itself require quantifiable distinctions between things and we are talking here about differences in quality. Modern English essentially denies quality linguistically, just as the rationalist world outlook denies it philosophically.

That is why I said "spirit" is a poor translation of ki. It does not mean Atman, or Vate. It is, as you say, related to "force" or "energy" but not a physical one, although it does have a close relation to material energies (but not in the sense defined by physics). In fact some schools hold that matter arises out of ki.

I would suggest that the best word for this is in fact ki.

Ki occurs in a lot of Japanese words. One most people probably know is genki, meaning lively, or in good health. The word is written 元気 genki meaning "original ki". Now when we consider the traditional concept that things are best in their most original form (the opposite of progress/evolution basis of late West Telluri thinking) we begin to see what this really means on a deeper level.

The 元 gen of 元気 genki means source or origin and is the on‐reading of moto as in moto ni modoru (元に戻ろ) which we discussed here. In the Scriptural passage quoted in the linked post, the word energy means ki. It also has the meaning of the shaktic "energy" of creation (in this sense the Mother is the shakti, or outward power, of the Dark Mother). I am thinking that ultimately the two things may be closely related and that is what is meant by matter deriving from ki.

On Fuji‐san: it is the Sacred Mountain of Japan and is traditionally described as the Pillar of Japan, which, of course refers to the World Axis in its "local" manifestation. The presiding kami of Fuji‐san is the cherry‐blossom kami, Konohanasakuya-hime who represents fragile beauty and harmony, the symbol of the Japanese spirit. It was hailed as the superior mountain of the three realms (Japan, India and China: ie, the whole civilized world), which is the normal position of taking the local representative of the World Axis as the World Axis (but not in the exclusivist and literalist way of the Abrahamist traditions).

The san of Fuji‐san is often mistaken by West Telluri for the honorific san (if the Sacred Mountain actually carried an honorific it would surely be sama). This san is in fact the on‐reading of 山 yama, mountain. So Fuji‐san simply means Mount Fuji.

Note: bear in mind though that 山 is a perfect glyph of the Sacred Mountain as central Pillar in the midst of the duality of manifestation.

January 27, 2015 at 10:22 am

#222633

Yes, yes, yes, Maid is originally genki! I love it! (Oh dear, a demonstration…) I strongly believe that our natural state is happiness, and it is wonderful to find a word that encapsulates that as a given. (Of course, I had heard the word genki, but had no idea it related to anything higher than a particular character type in kinnies.) I am starting to see what you mean about the superiority of Japanese to English.

I think you are right that the best word for ki is ki, I shall adopt that.

Please forgive my mistake about the 'san' in Fuji-san! Thank you so much for all of this fascinating information, especially the glyph of the Sacred Mountain. I remember reading somewhere around here that all the Sacred Mountains are the Sacred Mountain just as all the Empires are the Empire.

I looked up Konohanasakuya-hime and found that there is a legend that human lives are short and fragile because the god Ninigi chose to marry the cherry blossom princess rather than the rock princess. It says so eloquently that ephemerality is beautiful, without actually saying it.

January 27, 2015 at 7:55 pm

#223004

Honored Miss Jessop, please give me your loving indulgence. Forgive me for not greeting you earlier.

I think demonstrations are quite all right! We can be quite demonstrative!

Honored Sushuri‐chei, I do think ki is a good word. I rather like the way Japanese is enriching our vocabulary and helping to make up some of the deficiencies of English.

Yo say the Japanese were "taking the local representative of the World Axis as the World Axis (but not in the exclusivist and literalist way of the Abrahamist traditions)."

How very true. The idea of suggesting people are in serious error for taking the "wrong" Sacred Mountain as the true one is fairly obviously absurd I would have thought. But is it any less absurd than saying that people are in serious error for taking the "wrong" kami as the outward Form of the Absolute?

January 29, 2015 at 2:46 am

#224287

Honored Miss Sorcière, please give me your loving indulgence and please do not worry, there is nothing to forgive! I am delighted to meet you. And I am delighted that we can be quite demonstrative here too!

Also, I know you were addressing Miss Sushuri, but I wanted to say that I really loved your point about kami.

January 29, 2015 at 9:37 am

#224578

Thank you, honored Miss Jessop. Please feel free to reply to anything on these forums. While one may acknowledge the person who one is replying to, the discussion is a public one and everyone is welcome and encouraged to join in at any point.

January 29, 2015 at 9:51 am

#224580

Thank you for making that clear!

January 29, 2015 at 10:04 am

#224585

How <i>is</i> a Novaryan brunette supposed to dress, anyway?

This is complicated by the fact that while my blonde friend does wear dresses and skirts, she also quite often just wears jeans and a pretty top, and I want her always to be the prettiest. I would feel very odd looking more feminine or more 'dressed up' than her. It sounds silly because we live on different continents, so it is not as if people are going to be looking at us together and taking me for the blonde, but I am always by her side in spirit. I would know we looked unbalanced.

I wish I could just ask her for style advice, but I have pretty much no hope of getting her to say anything but, 'You should dress however makes you happy.' I think she really does not care how I look, she just loves me no matter what. It is funny because every blonde in my life up till now has tried to pretty me up, and I felt very frustrated about it and wished they would just accept me, and now I have one who truly does, part of me wishes she would just tell me how to dress…

January 29, 2015 at 10:12 am

#224632

This kami question gives rise to a whole set of thoughts that I don't really have time to develop in full right now, but:

As we know, the Classical Decadence which started in seventh‐century (BC) Athens and was an immersion in material things for their own sake (for example "realistic" art depicting what Plato called copies of copies ‐ attempting to draw a physical tree rather than to draw its Archetype as all traditional art styles do).

At the same time the Abrahamic religion was promoting kami‐exclusivism (to coin a phrase). It is natural to take particular kami as the outward form of the Absolute. In India currently, it is usually Visnu (under forms such as Sri Krishna), Siva or Mahadevi (the Great Mother). The idea of taking someone by the throat for calling the "wrong" kami supreme barely exists.

The "jealous god" was at first simply an expression of tribal nationalism, but it became literalized in the notion that the Absolute was its outward form, and that outward form was one particular kami.

I think we see two different forms of literalism here, that are related only by their common factor, a kind of erroneous "factuality" and belief in the outward form at the expense of the inner essence.

That the two eventually married and gave birth to what eventually became modern West Telluria is rather fascinating.

Just a brief note, but perhaps worth pursuing at some point.

February 6, 2015 at 10:20 am

#231627

The marriage of the Classical decadence with Abrahamic exclusivism is a really interesting topic.

Just rolling the idea around, it seems to me that the marriage was rather a curious one with first one party dominating and then another. In the Middle Ages the Abrahamic stream decisively won and the humanism/proto‐materialism of the Classical stream lost a lot of ground. West Tellurian art even returned from naturalism to attempting to depict the Archetype.

At the Renaissance (the term quite consciously meaning rebirth of classicism), the classical stream rallied and really has never looked back. It began to turn on the once‐dominant partner.

The couple may have begun to think about divorce, but by now this was impossible. They had become a symbiosis.

The "scientific world view" is posited around the "jealous god" exclusivist mentality. While, by its own philosophy it restricts itself to the material plane and is disqualified from commenting on anything else, in practice it dismisses all other forms of knowledge as "superstition" (false gods) or pseudo‐science (heresies of the True Faith).

Similarly, Christianity when defending itself against "historicist" attacks rather than asserting the superiority of myth to history, attempts to defend itself on its antagonist's own terms as "historically true" (conservative), or else retreats into vague ahistorical assertions that essentially affirm the "scientistic world‐view" and try to carve out some relevance.

Either way modern Christianity (unrecognizable to its own earlier manifestations) is now essentially the "modern world view" with God incongruously balanced on top, while the "modern world view" itself has become an exclusivist position damning everything else as ignorance or heresy.

Like any dysfunctional couple, they fight, snarl, unite against common enemies (every other world‐view), then fight again. But they cannot separate. They are each other.

January 29, 2015 at 10:37 am

#224637

Yuriko Rill

Participant

I think that a great place to start for brunettes is to replace sweaters, sweatshirts, and the like with jackets and/or vests.  Jackets and vests are very kakkoii and add a racinating effect to just about anything.  Also you can start replacing T-shirts with shirts with a collar and buttons.

I think that a classic racinated brunette look is a solid colored business skirt suit, especially with gloves.  I swoon over brunettes in uniforms, but the business suit look is pretty close.  It is feminine, but in a brunette way, rather than a frilly blonde way.

January 29, 2015 at 10:43 am

#224639

Oh, I am so glad because that is pretty much exactly where I was heading. (Maxie in 'accidentally fitting in' shock again…)

Also, sigh… I realised after posting that question that I had posted it in the wrong thread, so now we have it in two threads. Forgive me!

January 29, 2015 at 10:50 am

#224640

This sort of thing makes my head spin, but I am wondering if it is too late for a more organized moderator to move the right part of the thread to the right place, or has it already become too topicy mixed?

Author

Posts
You must be logged in to reply to this topic.