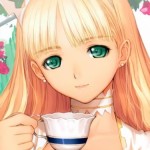 Public Group
active 2 days, 13 hours ago
Shining maidens take tea together and talk about everything the sun and moon shine upon.
For tips and tricks on how to make the best use of the Forums see Forum Tips.
More Questions about Racination
This topic contains 9 replies, has 3 voices, and was last updated by

Yuriko Rill 1 year ago.
Author

Posts

Rayati!
I apologize for all of my questions on the matter, but I am so very eager to learn. Every time I make even the smallest change, I feel so much lighter and in harmony.
What are some different ways to become further racinated?
In terms of social media, what platforms should be avoided, or what sites/URLs/etc. are especially racinated?
Are there particular music groups that you can recommend?
How does one go about surrounding themselves with friends who are more, say, enlightened than others in Telluria?
I've recently purchased Flight of the Silver Vixen, Goldenhead, the Gospel of Our Mother God, and the Feminine Universe, but they are en route as of tonight and will take a few weeks to arrive. I'm excited to be able to read more about the Motherland and to return more and more to harmony!
In Amity,
Mei

Not sure I can help here. Have never gotten on with English language social media – I get the impression that they "splurge" – meaning that whoever you choose to follow you get overspill from their circle and their circle's circle so that you are getting exposed to unfortunate things.

Anyway I find West Telluri a bit impenetrable. I tried reading English Twitter at one point and although I knew all the individual words it might as well have been in a foreign language.

I do have social media accounts (which I don't end up using a lot) but in Japanese only, which feels much safer.

By the way the Japanese LINE app is a kind of cross between a social network and a messaging app. It does not "splurge" like the main Western social media (nor does it throw advertising at you). However not a huge number of Western users are on it.

Racinated sites – really not sure. It was because Western sites about even things like Precure are so dubious in their outlook that Musume Senshi was started, but that is no longer active.

Yuriko Rill

Participant

Oh please do not apologize for asking questions! We love questions!

Sadly, though, I do not think that I can be of much help either. For me, learning Japanese was a huge step in my path to become more racinated. It is much, much easier (and perhaps only possible) to find modern racinated material in Japanese. Even English translations of the nicer anime tend to be, well, not as nice as the original Japanese. I have found the Japanese dubs of even the modern Disney movies to be much, more racinated in Japanese.

Actually, getting out of English in general helps a bit, I would imagine. I have been listening to Swedish dubs of Disney songs as well. (I am learning Swedish to feel closer to my late grandmother). The Swedish versions are not as nice as the Japanese ones, but they are still nicer than the English versions.

Other than that, I am not really sure. Media from prior to the Eclipse (mid '60's) is generally racinated in terms of manners, furniture, dress, and the like, but often the story lines of media not made specifically for children can get a bit dubious.

Sorry I can not be of more help. Maybe someone else can have more advice.

Rayati, Sushuri-chei and Rill-san!
Thank you very much for your responses.
I agree, West Telluri media has exposed me to some rather unfortunate things, even when I only interact with the most innocent users. Such a shame.
As Rill-san has seen, I received my shipment of books in the mail, and I have found even after merely glancing over them that I feel so much lighter! I read a chapter of Goldenhead, and part of the Gospel of Our Mother God, right before leaving for work, which can be quite vexing at times. I found I responded better to stresses and was more at peace. I can only imagine how much closer to my roots I shall be after extended perusal of racinated materials!
(And I must say that I am loving Goldenhead so far, and it deserves every bit of praise that it has received. Mati-chei has such a beautiful writing style! It has left me in such awe.)
In Amity,
Mei

I am so glad you are enjoying the books so much. Goldenhead is magical isn't it?

It is lovely to hear that you feel more at peace already!

Truly, it is! It feels so much like home.
I also went shopping today and bought two skirts, a sweater, and a dress! I am ever so pleased and excited about it.
Thrift shops are amazing for finding more racinated clothing, though they are considered to be rather base in my area. Regardless, I have something of a start on a new, more racinated wardrobe!
In Amity,
Mei

It's funny about thrift stores isn't it? One finds lovely racinated clothes nearly new! Rather as if poor West Telluri buy lovely clothes because they are lovely and then look at them wistfully, thinking "but one isn't allowed to wear them in West Telluria, is one"…

And finally take them to the thrift store.

Rayati Sushuri-chei,
I quite agree! It is ever so sad to see these beautiful articles of clothing being left. I found one stunning dress that I would assume to be in a more Quirinelle style, and it is so very lovely. Similar to another dress I have, and such a beautiful style! Quite well suited to a brunette like myself, I should think.

I also found two new skirts and a beautiful cable knit cream sweater; perfect for the winter, it gets quite cold here.

I am also planning to look online for dresses. Normally I avoid online shopping, as it seems, well, quite unnatural to me (I am not a fan of electronics most times, I have trouble using them and hate the sense of disconnect that they bring), but I believe it will be easier to find more racinated clothing online.

In Amity,
Mei

The more I read, the more everything makes sense to me!
I finished Goldenhead as I had mentioned, and I've never read anything better. Something about it clicked far more than anything ever have.
I'm now reading The Feminine Universe, and it makes far more sense than any philosophy I've ever read.
I feel like I understand myself so, so much more. As well as others and essentially everything as a whole.
I really don't know how to explain it! I wish I could, but no words would so it justice.
Just a bit of my own absent-minded rambling.
In Amity,
Mei

Yuriko Rill

Participant

Oh Goldenhead is quite wonderful isn't it!

And the Feminine Universe really does explain a lot, I think.

Happy reading!

Author

Posts
You must be logged in to reply to this topic.