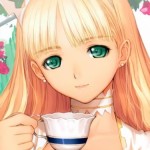 Public Group
active 15 hours, 26 minutes ago
Shining maidens take tea together and talk about everything the sun and moon shine upon.
For tips and tricks on how to make the best use of the Forums see Forum Tips.
Racinated clothing for the cold
This topic contains 8 replies, has 6 voices, and was last updated by

Sanae 3 days, 11 hours ago.
Author

Posts

Sanae

Participant

Rayati, minasan,

I live in the north where it gets quite cold! As winter approaches, and the days of summery skirts and flowing tops go into hibernation, what is a maid to do with her clothing? As an Estrenne, I much prefer the old old styles like those in medieval or Renaissance Telluria, and even wide flowing dressy bifurcs with a beautiful tunic, as in some eastern Tellurian places, but when the weather turns snowy and the winds go bitterly stealing maids' breaths from their cheeks, how does one keep warm?

I thought perhaps I might layer some of the more modern leggings under a skirt, as these things called "tights" do not much get along with my skin. But all my skirts tend to be summery as well! Any help that you might give is most welcome and appreciated.

Rayati and love,
Sanae

Mei

Participant

Rayati!
I, too, live in a very chilly place.
Personally, I have taken to wearing a sort of compression nylon under my knee-length dresses. I am also Estrenne, but dressing as such could be taken very poorly in my culture, and I have yet to pluck up the courage to do so… So I often stick to 1950s style dresses, or even shift dresses reminiscent of the 1920s.

One absolutely adorable trend I have seen and made use of is that of knee-length cable knit socks. I purchased a few pairs and absolutely adore them. They are soft and warm, and so cute! They can be an easy way to keep one's legs warm in the winters.

As well, there are many options for long woolen skirts (Anne of Green Gables style) that are gorgeous! I am looking into investing in a few.

Long sleeved blouses and/or cardigans are a maid's best friend this season.

Best of luck to you in finding a warm and racinated way to dress! Please do try your hardest not to catch cold; it is far too easy to do so this season!

In amity,
Mei

My racinated wardrobe is quite mada mada (not there yet) but I can relay a few basic principles to keeping warm in racinated clothing that West Telluria seems to have lost in recent years.

1. Thick stockings, good boots. Covering and keeping the feet dry does a lot towards keeping the rest of your legs warm. Cold toes are dangerous in winter!

2. Hats and gloves. A lot of heat escapes through any exposed part of the body, especially the head. A nice hat traps that heat in, and of course gloves help enormously.

3. Layers. Honestly, slips and petticoats are important! Even a thin skirt layered under another skirt will do you some good if you haven't got a proper petticoat or slip. The idea is to create a sandwich that traps a cone of heat around you. Done properly, layered skirts and petticoats are warmer and more pleasant than bifurcs. Likewise, a proper coat over a sweater over a blouse over a camisole will do you more good than one of those puffy marshmallow things over a tea shirt – especially since part of the danger in cold weather is the sudden shock of abrupt temperature changes. Taking off one layer and still having a few is better for you.

4. Scarves and veils. Keep your neck and nose warm!

Lastly, may I recommend, of all things, Land's End as a brand that still has blouses and sweaters that aren't completely ridiculous? They even have a couple of longer skirts in a nice cut! Of course the things are relatively plain, and one must be choosy, but the odds are better than a lot of West Tellurian brands.

Lynn

Participant

Rayati, mina-san!

Thank you everyone for your wonderful suggestions. In particular, I think I shall try out Rosamunda-chei's petticoat suggestion, as I've always loved the look of that sort of silhouette.

If you don't already own one, I've found ankle-length "peasant skirts" to be quite comfortable, while also very modest and feminine, and combined with some other layer underneath could be quite warm, I think. I wear them almost as a more racianated version of Tellurian "sweat pants", to be honest. Though, I wouldn't necessarily suggest them for working out in.

Stay warm, everyone!

In amity,

Lynn

Mei

Participant

On this topic –

I've quite admired the "mori girl" street style of Japan for some time, and I think that, ergonomically speaking, it would indefinitely help to ward off the cold (a great many layers, and long ones, at that!)

However, I was wondering how racinated it is? Since it takes on an almost… I don't want to say sloppy, but it perhaps doesn't always look as put together. I was curious what others thought on the matter. If it is properly racinated it might not be a bad idea to try out for extremely cold days!

In Amity,
Mei

Venus

Participant

Rayati Mei-San!

I think it depends. Mori girl can look messy, but I have seen lovely styles of it that are neat and racinated. I love a mix of mori and Lolita. I also like it when it's a little more toned down like this:



I hope this helps.
With love,
Venus

Sushuri

Moderator

Living in a mild climate, I usually get away with a jacket or cardigan sweater. Actually I do tend to wear several layers such as a turtle-neck plus twin-set because I am a samugariya (feel the cold).

If I were in a colder part of Telluria I would love to wear something like this:

Assuming I had 44,000 yen to spare! Which sadly I don't!

But one can sometimes pick up nice coats in thrift stores.

Lynn

Participant

Rayati, mina-san

I'm actually quite fond of the Mori aesthetic myself, but I agree that it can appear less than put together. I've heard of people combining it with Lolita by using the Lolita silhouette and clothing items, but choosing patterns, accessories, and colors that are inspired by nature, and perhaps adding an extra layer such as a pretty jacket or scarf, then wearing it with a nice pair of boots instead of the typical Lolita shoes.

Here is an example coordinant if anyone else is interested:


In amity,

Lynn

Sanae

Participant

Honored minasan,

Oh, goodness, thank you ever so much! Winter was late arriving this year, but now there is lovely snow on the ground. I do love to layer, and have been acquiring quite a lovely wardrobe of cardigans. I found one this afternoon that is knit and has a piece of (fabric) lace around the hem! I thought it so charming that it was difficult not to get a second color. It's the lower half which is more difficult… where does one obtain a good petticoat in this dark age?

I love the "peasant skirts" very much and in summer I wear them often!

And I was so fortunate to be offered a lovely wool winter coat with princess seams and a rather flowing hemline from some dear friends whose grandmother had passed, and I was the only one they knew of who might fit the coat. (I cannot layer too many things underneath, as it is a snug fit, but it is quite warm and cozy.)

My most sincere apologies for not replying sooner.

Author

Posts
You must be logged in to reply to this topic.