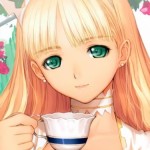 Public Group
active 15 hours, 24 minutes ago
Shining maidens take tea together and talk about everything the sun and moon shine upon.
For tips and tricks on how to make the best use of the Forums see Forum Tips.
Welcome Miss Lynn
This topic contains 13 replies, has 7 voices, and was last updated by

Urania 2 days, 21 hours ago.
Author

Posts

Yuriko Rill

Participant

Rayati and welcomme, Honored Miss Lynn,

Please give me your loving indulgence. I think that your profile picture and background are quite lovely, by the way.

I see that you also studied Japanese in school.

Please feel free to share more about yourself or to ask questions.

I hope you enjoy your stay here.

In Amity,
Yuriko Rill

Rayati, Rill-san! Rayati, mina-san!

Thank you very much for your kind welcome. You have all of my indulgence and I would like to ask for yours as well, if I may. As an aside, I have seen this phrase a lot on the forums, and I wonder if it is in any way similar to the Japanese phrase douzo yoroshiku onegaishimasu? Also your kind words warm my heart. I like yours very much as well. I'm quite fond of pastels and flowers.

I did study Japanese in school for about three years, as I originally wanted to be a translator. I've since changed my career path to something of the medical persuasion, but still have a fondness for the language, despite not having had much time or energy to practice speaking it of late.

I found Chelouranya through my recent conversion to Deanism. Before that I've sort of dabbled in a few different religions, never quite finding one that fit, ranging from Christianity to Buddhism to Dianic Wicca. I found Dea at the time I most needed Her, I think, and it feels like my previous religious experiences were in some ways an attempt to find Her, but just not quite looking in the right place.

I am very new to all of this, and I fear I may have a lot of Pit-influienced thinking to clear myself of as time goes on. I would like to beg forgiveness if any of my future questions seem impertinent or wrong-headed.

During my brief stint on Deanic Tumblr, which I have since left on advice of some of the previous forum posts, it was pointed out to me that my way of thinking has a very social justice influenced lens that doesn't really apply to a place like Sai Herthe, so that's something in particular I'll need to work on.

I cannot say with complete confidence that I am from Sai Herthe at this time. I'm not really sure how one knows or doesn't, to be quite honest, so any insight on that point would be most welcome. However, as best I can tell so far I would consider myself a chelana and am drawn to Vintesse.

I haven't gotten the chance to go through the entire forums just yet, so I apologize if this has already been addressed, but I was wondering if there was an apprentice system of sorts here. As in, is it possible for one to find a teacher, and if so, how does one go about doing so?

The other thing I was wondering about was religious services. Are there sermons of some sort? I've also heard vague references to religious retreats, and must admit I am curious about those as well.

Thank you for indulging my lengthy introduction and my many questions. May you all have a blessed day!

In amity,
Lynn

Rayati and welcome, honored Miss Lynn! Please give me your loving indulgence. Yes, this aisatsu of ours is very much like the Japanese yoroshiku onegaishimasu! Isn't it lovely that there is a modernly spoken language in Telluria that still retains so many civilized phrases?

A lot of your questions can be answered by addressing what sort of space Shining World is, I think. Think of this forum as Chelouranya's front parlor, during our "at home" hours. Everyone from brand new acquaintances to dear and lifelong friends is popping in and out for a cup of tea, a cookie, and conversation. One knows that this house has other rooms and sometimes other social events, but one waits for a private and specific invitation – probably when one has become better acquainted with the hostess by continuing to come and visit.

As for whether a maid is or was originally from Sai Herthe, I think the best policy is not to worry about it. My advice would be to absorb the atmosphere of Chelouranya, to include Chelouranyan books (and above all the Gospel) in your reading, to include racinated kinnies in your viewing and racinated music in your listening, and just let it all wash over you. If 'waftings', as we call them, come from the Motherland, treasure them, but let go of the idea that they must be true in the strictest literal sense, or that they must not be.

We are concerned with hearts in Chelouranya, not with having the right stamps on your passport. This isn't the social justice sphere – we won't worry about you "appropriating" Rajasic civilization as though we were afraid you'd swipe it like the family silver.

It occurs to me that this whole reply may come across as rather brunettishly firm. Please imagine it said in a gentle voice with a sympathetic and encouraging smile, as that is how it is meant.

Venus

Participant

Rayati Lynn-chei

I am still quite new myself, but I found Flight Of The Silver Vixen to really help with my understanding of Chelouranya. There's also Goldenhead, The Feminine Universe, The Gospel and allgirlsworld.

The Encyclopedia for Chelouranya no longer works but notes from Chelouranya is another excellent blog. While we grow I focus on getting closer to Dea as well as getting to know our fellow maidens.

In amity,
Venus-chei

Rayati, Honored Miss Venus! Please give me your loving indulgence.

Thank you for your wonderful suggestions. I have read some of those, but still have many more to catch up on.

If I might impose again to ask a few more questions, I was under the impression the preferred version of The Gospel is the one printed by The Chapel of Our Mother God. Would I be correct in this assumption? The other question was actually regarding the honorific "chei". When is this appropriate to use when addressing another maid?

Thank you for your kind welcome, as well as your generous efforts on the mini publication, and I look forward to getting to know you better.

In amity,

Lynn

Venus

Participant

Dearest honored Miss Lynn the pleasure is mine,

Yes, you are correct on the gospel. The one published by Sun Daughter Press/ Chapel Of Mother God is the one that we use.

"Chei" is suffix meaning "Miss." I may be mistaken, but I believe -chei is used more often by Estrennes than Westrennes. Either way it is perfectly fine to use.

In amity,
Miss Venus

Sushuri

Moderator

Rayati Miss Lynne, please give me your loving indulence.

I am very happy to meet you and welcome you to Shining World.

We mostly use the honorifics -chei, Miss and -san here. Miss is more Westrenne (and does not indicate marital status) and also West Tellurian. -chei is more Estrenne, as Miss Venus says. -san is used when we are speaking Japanese and in English for those who prefer it and/or use Japanese or Japanese-based names.

As Elefarya-chei says, the question of whether one "is" or "isn't" from the Motherland isn't a very important one. How literally one should take things (or even, what "literally" really means beyond the confines of this particular world) is a subtle question to which none of us can have definitive answers. If one's heart feels as though it belongs to the Motherland that is all that really matters.

I hope you will have a delightful time in Shining World.

Honored Venus-chei,

Thank you for your kind indulgence of my curiosity. Your words have been most helpful.

May you have a blessed day.

In amity,

Lynn

Rayati, honored Sushuri-chei,

Please give me your loving indulgence. The pleasure is all mine, surely. I feel incredibly welcomed by you all.

Thank you for the further clarification and for that vital piece of reassurance. I am sincerely flattered by the time taken to offer me such comfort.

I look forward to getting to know you better and may you have a blessed day.

In amity,

Lynn

Sanae

Participant

Rayati and welcome, honored Miss Lynn! I beg your loving indulgence.

Your profile picture is so beautiful! May I inquire from where it comes? The style looks so gentle and serene, and if it is a kinnie or a manga, I should like to see it, I think!

In amity,
Sanae

Rayati, honored Sanae-chei! Please give me your loving indulgence.

You are far too kind. I chose it as an image of what I'd ideally want to look like more so than from a specific series, so I don't know many details, I'm afraid. The artist is Marin-chei and she appears to be from the Tellurian state of Korea (not certain which one), so it's hard to gather much information by looking at the original, I fear. I am sorry I could not be more of help.

As an aside, I admire your profile picture as well. Am I correct in assuming that it is from the CLAMP series Rayearth?

In amity,

Lynn

Sushuri

Moderator

For CLAMP fans might I recomend Kobato? I don't think there is an English version of the anime but you can see it here with English subtitles if you need them (or Japanese subtitles if you can manage with them).

I would warn you that the blue dog nuigurumi (stuffed toy) is a very grumpy male thing and the other main male character is pretty grumpy too, so if that is upsetting you may not want to watch it. However Kobato herself is so beautiful and innocent (and very beautifully dressed) and the whole theme is full of goodness and light. And all the female characters are delightful!

I've just read the first of the two novels, which I really love (though I am pretty sure they aren't in English, I'm afraid).

If you can manage with the anime in Japanese (using the J-subs) I would recommend it because English translations always make things seem somehow a bit cruder and less delicate. I think it is because a certain cynicism and roughness is somehow built into the modern use of English even in little tiny ways.

However, although I haven't looked at the English subs for Kobato I wouldn't think they would be worse than any other English subs so don't let that put you off if you need them!

Urania

Participant

Rayati, and welcome Miss Lynn! I am new as well. So wonderful to see you here!

Author

Posts
You must be logged in to reply to this topic.