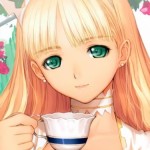 Public Group
active 2 days, 13 hours ago
Shining maidens take tea together and talk about everything the sun and moon shine upon.
For tips and tricks on how to make the best use of the Forums see Forum Tips.
Welcome Miss Pearl
This topic contains 11 replies, has 6 voices, and was last updated by

Rosamunda Elefarya, Setsuna Chandrick, little Rosie 7 months, 3 weeks ago.
Author

Posts

Yuriko Rill

Participant

Rayati Honored Miss Pearl,

Please give me your loving indulgence.

It is good to have you among us. If you would like, please feel free to introduce yourself and tell us a little about you. We look forward to getting to know you.

In Amity,
Yuriko Rill

Sushuri

Moderator

Rayati honored Miss Pearl,

Please give me your loving indulgence.

Thank you for honoring our forum with your presence. It is delightful to have you here. Please feel free to ask any questions or tell us anything you would like to.

We look very much forward to hearing from you.

In amity,

Sushuri

Sanae

Participant

Rayati, honored Miss Pearl,

Please give me your loving indulgence.

I look forward to making your acquaintance!

In Amity,
Sanae

I feel awfully silly about my confusion about posting – it seems it's taken me this long to find the forum section and figure out how to post properly. I'm usually fairly good with elektraspace things, too. I very much apologize, it's actually quite embarrassing.

I'm just going to repost the comments I previous made.

Posted 17/6/23
"Rayati, all.
I must ask once more for forgiveness for being away for so long.
After my last post many… eventful things happened over many months which have only recently been resolved.
I had stayed away out of feeling guilty for the mess and that I didn't deserve this place and might've tainted it, but I'm hoping that I was and am wrong and that is instead just the opposite.
As for my studies, I think I'll be lucky to pass the N4 this year (In December in my location, instead of June as I had thought, thankfully), and I'm trying to get back on my feet spiritually.
I was wondering if anyone might have any advice for me regarding that latter. At the moment I'm focused on prayer and reading uplifting and inspiring literature, namely "A Little Princess", "Anne of Green Gables", and "Goldenhead".
I do hope I'm not being as much of a bother as I feel I am. I wish to be part of this community and help it in some way.
In reverence, Rayati."

Posted 17/6/23
"I've been reading Anne of Green Gables to my little one and I came upon a passage that made me realise how very chelanic Anne is.
Unfortunately I can't seem to find the passage I wanted but the entire book is full of Anne's wonderfully imaginative reflections that I probably don't actually need to cite any one thing.
I hadn't really thought of Sara in A Little Princess as being one or the other until I thought about Anne being chelan, so I suppose I'd think she was melin. Both are very feminine, but also so very different. I read in a fiction that a melin joked to herself that chelani may as well be another species.
I think I chose "melin" rightly on my profile because as much as I may love and admire Anne's qualities I don't think I could ever actually be like that – it just doesn't seem in me. However, I suppose most Western girls don't think they could be actually feminine even if they wanted to as it's "too beyond them", so to speak.
Not to say I'm anything like Sara, either! Sometimes I think being even feminine enough to be possibly considered a "rough" (or maybe idle and absent minded) melin would be an uphill battle.
But striving for such things is really just self-betterment and that's worth it in itself, right?
I think I've rambled a bit much, I'm sorry. My thoughts were flowing and I thought I might share them."

While I'm thinking of it, I want to mention that while reading these more rascinated books, I find that my mind seems to be open, I feel more intelligent and capable. I feel everything around me is suddenly made of perfume and poetry and I might just be able to enjoy and express it in some way.
I feel that instead of it being of myself (as in, in isolation) it's coming from without and therefore from within my own heart. It's a warming and bright feeling I can't describe well – it makes everything around me seem so lovely and welcoming, encouraging.
It also makes me want to talk. At length. Which I have trouble controlling, although I'll admit that I don't really want to – I very rarely talk, honestly, and certainly not any more than a few sentences at a time.
In contrast, when I don't feel this, as before, everything around me seems dull and I feel empty and stupid, going through motions of being and not wanting to do anything; like I don't have any value and nothing really matters so why should I bother with anything unless I must?
I suppose that maybe all I need to do sometimes when I'm feeling low is to read a good book for a while.

Mei

Participant

Rayati Miss Pearl!
I do not believe I have yet made your aquaintance – it is lovely to meet you!

I've always said that a good book transports one to another place, even if only for a while – Rosamunda-chei and Miss Darling made many good book recommendations here that you may find useful!

Happy reading!

In Amity,
Mei

Rayati, Mei-chan!
It's lovely to meet you as well!

Thank you so much for the book recommendations. I'm so glad there are so many Anne books to read once I'm finished with the first <3

I'll see if I can find any on either the Kindle or at a second hand shop, although I suppose I'll have to get a Kindle version so I can read to my little one at night in the dark. It was so hard to find a good unabridged version of A Little Princess and Anne of Green Gables for it though.

Any hoo, I look forward to more discourse with you.

In amity, Pearl.

Rayati honored Miss Pearl,
Welcome! Please give me your loving indulgence. I know a bit about having high ideals and getting down about being nowhere near them, but please remember that all the Fairies have been asked to breathe with you in your upward aspirations, and that doesn't come with a condition of, "Unless she starts in a dark and scary rough place, in which case, never mind!" The will to be good is the big first step, so congratulations, and ganbatte kudasai!

I think I must add to my recommended book list the entirety of the Oz series written by Mr. L. Frank Baum (though none written by successive authors). I have been listening to it with my own Wee Maid, and after the first book (which is, approximately, the story everyone seems to know) we get a decided turn for the lovely and astonishing, and Oz as a realm returns to a state of great harmony and love that does my heart good to listen to. And of course Miss Dorothy Gale is a simply kakkoii brunette.

I never do know how to end these things, so I will just reiterate my loving encouragement and wish you a joyful time among us.

In Amity,
Elefarya Rosamunda (Rosamunda is my given name, it's last because I'm Estrenne.)

Sushuri

Moderator

Thank you for the recommendation, Elefarya-chei. I didn't realize the books changed so much from the first one, having never read them.

Now I really want to read them myself and am going to look out for a Japanese translation.

Well the thing is, in the first book and part of the second, the realm of Oz is recovering from some very bad leadership. After the rightful princess returns, Oz becomes a much lovelier place and the series a more enjoyable read.

It isn't so much that the first books are bad books, it's that we discover over time that Oz had gone wrong and it is in the process of being turned right again over the first two books.

Yuriko Rill

Participant

Rayati again, Miss Pearl,

Please forgive my tardy response to your post. Life has been a bit topsy-turvy of late.

With respect to high ideals, and being upset about not living up to them….I think in the Late Iron Age, it is really hard to be who we feel we ought to be. I think the difference between the Modern West and more racinated places and times, is that the Modern West seems to react to the difficulty of living up to high ideals by completely throwing out the ideals, and saying good is bad, and bad is good. No one can live up to the ideals anyways, so it is silly to hold on to them, is what the message seems to be. Goodness and attempts to be good are treated as cause for ridicule and scoffing, or at least that is what I see. happening.

In more racinated places and times, everyone knows and agrees what good and bad are, even if not everyone is actually *being* good, or even trying to be good. I think that is part of what we are trying to do in reracinating ourselves. I know I am far from who and what I would like to be, and I am working very hard about humbly accepting that and doing my best within the limitations of my life circumstances and my abilities.

For me, in many ways, in my Japanese studies, I have been working on re-raising myself. I have been reading the Little House on the Prairie series in Japanese. Even though Laura is clearly a brunette, and I am quite blonde, I have found myself sort of growing up alongside Laura. I am now up to 大草原の小さな町, or Little Town on the Prairie. I am enjoying it quite a bit.

It has been a long time since I have read the Oz books, and I actually do not think I read the first book, although I did see the movie, of course. The book I remember a great deal from childhood was Ozma of Oz. I do not remember much from it, except there being a princess? (I am not sure if she was the true princess…I think she was not)….who could change heads like clothing and she would be someone different with each head. Sorry, that part probably was not very racinating. I do think I remember who things worked out afterwards, but I seem to remember it turned out rather nicely.

Anyways, sorry about the rambling….oh and about any spoilers from my ramblings. Maybe I will try to find the Oz books in Japanese as well.

I am so glad that you gathered the courage to post, and again…welcome!

Hee…I think, honored Rill-san, you are referring to "Princess" Langwidere, temporary regent of Ev. Princess Ozma and Dorothy rescue the true royal family of Ev and everything turns out well. Or, rather…but that would be telling.

Don't worry, no heroine in the book is so naughty as that.

Author

Posts
You must be logged in to reply to this topic.