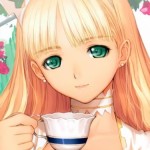 Public Group
active 2 days, 13 hours ago
Shining maidens take tea together and talk about everything the sun and moon shine upon.
For tips and tricks on how to make the best use of the Forums see Forum Tips.
Welcome Miss Venus
This topic contains 11 replies, has 7 voices, and was last updated by

Sanae 3 months, 1 week ago.
Author

Posts

Yuriko Rill

Participant

Rayati and welcome Honored Miss Venus,

Please give me your loving indulgence.

Your profile picture is quite lovely.

If you would be so kind as to introduce yourself, and let us know a little more about you and your interest in Chelouranya, we would be very grateful.

I hope you enjoy your stay here.

In Amity,
Yuriko Rill

Oh yes! Pardon me for not doing this last night. I'm quite new to Chelouranya. I came from a dianic pagan background and after a while I didn't feel anything for it. It was a little too "radical" for my tastes. Believe it or not I was extremely short-haired and attempted to be masculine! I got tired of this though. I wished to be more feminine and rid myself of feeling that "masculinity is right." Reading through Chapel of Mother God helped me find my place.

That's where I found Chelouranya where I felt the most at home. I've always had an interest in Japanese and anime as well. I'm still trying to figure out my country and how certain things work, so please feel free to guide me.

I'm still finding my way around the spirituality as well. I do pray often and I'm creating an altar (not in a dianic fashion, but a quasi-Hindu fashion) to Amaterasu.

And thank you! I quite love vintage manga. The art was so pure.

In amity,
Venus

Rayati, honored Miss Venus! It is a pleasure to make your acquaintance, and I look forward to getting to know you better!

In Amity,
Mei

Sushuri

Moderator

Welcome Miss Venus,

I don't know much about Dianism (if that is the correct term). It seems rather sad that it should be – well masculinist. I am glad you are finding a gentler way!

Which anime do you like?

Please give me your loving indulgence.

Unfortunately it has become a very patriarchal religion without realizing it. The masculi always complain about it having no men, but they don't see how it's been tainted by masculinity as is. If that makes any sense.

I felt as if it were more a self worshiping religion rather than a divinely inspired one. It is quite sad. Diana/Artemis is never worshiped correctly either. I'm just so happy I found myself here.

I am quite a fan of lilpri. I remember watching it in middle school.

Clare Trent

Participant

Welcome Miss Venus, please give me your loving indulgence and please forgive my tardy greeting. I am often busy with my Retreat Center which is dedicated to the Mother and Her Daughter and is a sacred two acre space in the mountains outside of patriarchy. The Fairies have led me to a healing/recalibrating system, method? – I am not sure what to call it – that directly tackles the upsidedownness of Iron Age modernization and patriarchal colonization of the Mind, which especially affects our understanding of femininity. I do not know where Mei-chei and you – please give me your loving indulgence also, Mei-chei, and welcome! – are based geographically, but I am in California, in a magical place called Topanga, nestled in the Santa Monica Mountains yet only six miles down a magical canyon to the Pacific Ocean. I hold meetups where I teach how to turn your mind right way up, and hold Full Moon Gatherings and other events. If by any chance you are within striking distance or have the financial resources to stay at my (or a cheaper local) Airbnb, anyone enjoying this website would be welcome to visit my SunMoon Retreat Center. I hope what I have shared here is of interest to you. Rayati and love, Clare Trent

Rayati! Miss Trent, I have seen many of your posts on Shining World and have long wished to make your acquaintance. I currently reside in Western Canada, and am sadly quite far away, but I should quite love in the future to make the trip down.

Such a project is a large undertaking, and I hope you are doing quite well.
In Amity,
Mei

Rayati, Clare-chei! It's very nice to meet you.

I am unfortunately in Texas. I would have loved to do just that but I am planning a trip to Toronto for the next year. It does sound like a wonderful retreat. If things go awry with my trip to Canada I'll be sure to swing by California if possible.

In amity,
Venus

Lynn

Participant

Honored Venus-chei,

Rayati again and I would like to extend my welcome as well, such as it is as an even newer member of the forum than yourself. I'm also from Texas and would be honored if you would join me for a coffee or other outing some time if you are able.

I too have a Dianic Wiccan background and I would say your insight into the matter is most discerning. There is a strong focus on one's personal power and choices and on the body (especially in the reproductive sense) and ones ability to use ones personal aptitude along with prayer to gain specific material or emotional objectives. I suppose in short what I'm saying is that, despite it's acknowledgement of a female deity and of other planes of existence and entities therefrom, it does seem quite over concerned with the physical world around us and materialism in general as opposed to a more truly Deanist focus, in my little informed opinion.

I don't mean to pry, and please ignore this question if I have done so anyway, but may I ask what kind of altar you have and how it differs from the more traditional Deanist one?

In amity,

Lynn

Rayati, and welcome, Miss Lynn! Please grant me your loving indulgence, and forgive my tardy welcome. It is entirely a pleasure to make your acquaintance!

In amity,
Mei

Lynn

Participant

Honored Mei-chei,

Rayati! Please grant me your loving indulgence. That's quite alright. In fact, I apologize that my reply is rather late in coming as well. I am also very pleased to meet you. I love your avatar, by the way. Sailor Mercury is my favorite sailor scout. Your profile is also quite adorable.

In amity,

Lynn

Sanae

Participant

Rayati and welcome, honored Miss Venus! Please grant me your loving indulgence.

I am glad that you have found this place which speaks to your heart. I hope that it continues to nourish you.

In Amity,
Sanae

Author

Posts
You must be logged in to reply to this topic.